Discover Mixcity's DJ Sound Effects Software for Your Computer
The ultimate real-time audio playback software uniquely designed for your sound effects, audio drops & jingles
See what others have to say
"KueIt made it easier for me to load up my sounds. No more instant replay…KueIt makes it convenient now to have everything in your laptop and ready to go. Those people that are old school and still doing the old thing, take your career… renew it, and 'GET FAMILIAR' with KueIt!"
Clinton Sparks
"KueIt allows DJs to step their game up. You can play like a radio DJ in front of a crowd, KueIt is one of the hottest new programs to hit the market."
DJ Kid Capri
HBO's Def Comedy Jam
"KueIt is incredible, you can have your profile hooked up... so when I gotta do my radio show, on the air, on the internet, in the club, you're ready to go! KueIt is the way to go... go get KueIt today. Trust me, you won't go wrong!"
DJ Enuff
Hot 97 NYC, Leader of the Heavy Hitters
"KueIt is the truth...you better get with it baby, DJ Clue told you so. CLUEMANATIIIIII"
DJ Clue
Power 105.1FM New York, Desert Storm
"KueIt is the perfect program to run all your drops and jingles without having to hook up an external unit. It's user friendly and has all the features you really need as well as constant upgrades adding more features in the future. A must have for any DJ!"
DJ Riz
Crooklyn Clan, Offical DJ of the NFL
"KueIt changed the game! The way I do radio, mixtapes, clubs, and T.I.'s shows has now been revolutionized by KueIt! I used to have to carry around a bulky machine and now I can get everything done with my laptop and the KueIt program!"
DJ Drama
T.I.'s Official DJ
"KueIt is a program that I use to perform at my live show. It replaced my bulky hard drive machine and made my life on the road much easier. I use it as a performance tool, but DJs can use it to rock all their drops and sounds on the radio or in the club. This product is revolutionizing the game."
Fatman Scoop
Legendary two-time Grammy Award Winner
"KueIt makes my life (DJing on the radio) easier, and it's extremely user friendly. After using it for only a few minutes, I felt comfortable enough to take it to the radio and get busy with it live on the air."
DJ Nasty
Grammy Award Winning Producer, We The Best Management, Nasty Beatmakers, 102 Jamz Orlando
"I use KueIt at my live performances. It's perfect because I no longer have to carry my $3000 sampler all over the world to do my gigs. All artists really need to look in to this. It's perfect."
Big Ali
The Official MC of DJ Bob Sinclar, Mr. Rock This Party aka The Trans Atlantic Champion
"If you stay on the road constantly and you use the 360', well you won't need it any longer. This software is called KueIt, and it's Mac & PC compatible. You need to purchase this. Be the leader that you are and make this the #1 product for the DJ."
DJ Scrap Dirty
WRBJ/Sirius 6040, Violator ALLStar DJ's-Founder
"KueIt allows DJs to step their game up. It's perfect for running all your drops & sounds on the radio and in the club. Don't be one of the last people on it. DJ Pharris told you so! Go cop that KueIt today. You need that!!"
DJ Pharris
Heavy Hitters, Pepsi DJs, Power 92 Chicago IL
"Kueit Pro is THAT $#@%! This program is a great add on to a DJ's ever-growing repetoire.....Kueit will help any talented Dj accentuate his mixes to the "next level". It is a cliche, but it is true......if you have the creativity, Kueit will help you make that magic happen!"
Rhettmatic
World Famous Beat Junkies, Visionaries, Beat Fanatic Music Group
"KueIt is definitely a hot program. Any DJs out there that want to get their drop game correct, or even if they're a DJ for a rapper or singer, this is definitely a hot program to use!"
DJ Mister Cee
Hot 97 New York, Associate Executive producer for the Biggie Smalls LPs, Big Daddy Kane's DJ
"KueIt took my drops and sweepers to another level for me on my mixshow at Latino 96.3 FM in LA and at the clubs. I'm able to do things quicker and smoother."
DJ Eddie One
Heavy Hitters, Latino 96.3 FM, Sirius Radio
"Kueit is HOT! I use it, and you should too! This really helps to add the final touch to your mix."
Deejay OB-one
98.5 KLUC / S.K.A.M. / 119 Cru, Lo$t Wage$ (Las Vegas)
"Wow! This changes the game. KueIt will take your DJ sets to that next level. I know next time you see me play it's gonna be trouble. You better hop to it with KueIt."
DJ J Rocc aka the Funky President
The World Famous Beat Junkies Crew, The Fantastik 4our Crew, Stones Throw Records
"I got up on this KueIt thing, and I love it! Me and my crew are heavy wit' it. We're in the clubs wit' it. We're on the radio wit' it. One touch of a button and you're on. Get up on it."
DJ Craig G
93.7 FM Hartford CT. Heavy Hitters, Top Floor Ent.
"It's like having an Instant Replay on your laptop with out a carrying case and cords. Very easy to work and customize your hot keys. It's a must for every DJ and on air personality!!!"
Eric V of the Bakaboyz
Nationally Syndicated on over 90 Radio Stations Nationwide!
"KueIt est le meilleur outil pour les dj qui voyagent beaucoup. Les possibilitées sont sans fin. (KueIt is the best tool for DJ's who travel a lot. The possibilities are endless.)"
DJ Cut Killer
Skyrock Radio . Paris France / Big Dawg Pitbull / CEO of Double H Productions
"KueIt is definitely the truth... for all DJs who like using samples in their mixshows, drops, bombs, horns and all types of effects. You need to learn it, KueIt... It's definitely official and I'm co-signing it to the end."
DJ Pro Style
BET 106 & Park, Power 95.3FM Orlando FL, Heavy Hitters
Broadcasting
---
Replace large bulky machines with cost-effective DJ sound effects software
Djing
---
Play all your drops, jingles, and sound effects, on our audio instant replay software while running other DJ programs on the same computer
Live Events
---
Performers arm yourself with an arsenal of audio files at your fingertips. instantly select tracks from our DJ sound effects software with no delay
Stadium
---
Have every sound you need, ready to go with a moment's notice with our real-time audio playback software downloaded on your laptop. Instantly trigger the appropriate sound for the big play
Our DJ sound effects software gives you access to 310 audio clips for instant simultaneous playback at the touch of your fingertips. It's as easy as a simple key press or the click of your mouse. Or use a MIDI device to control the KueIt. Create and store your own library of audio clips for use in playback
Latest Updates
KueIt 3 was completely rewritten from the ground up to be compatible with today's hardware. It is faster and easier to integrate with modern mixers, DJ controller software, and MIDI devices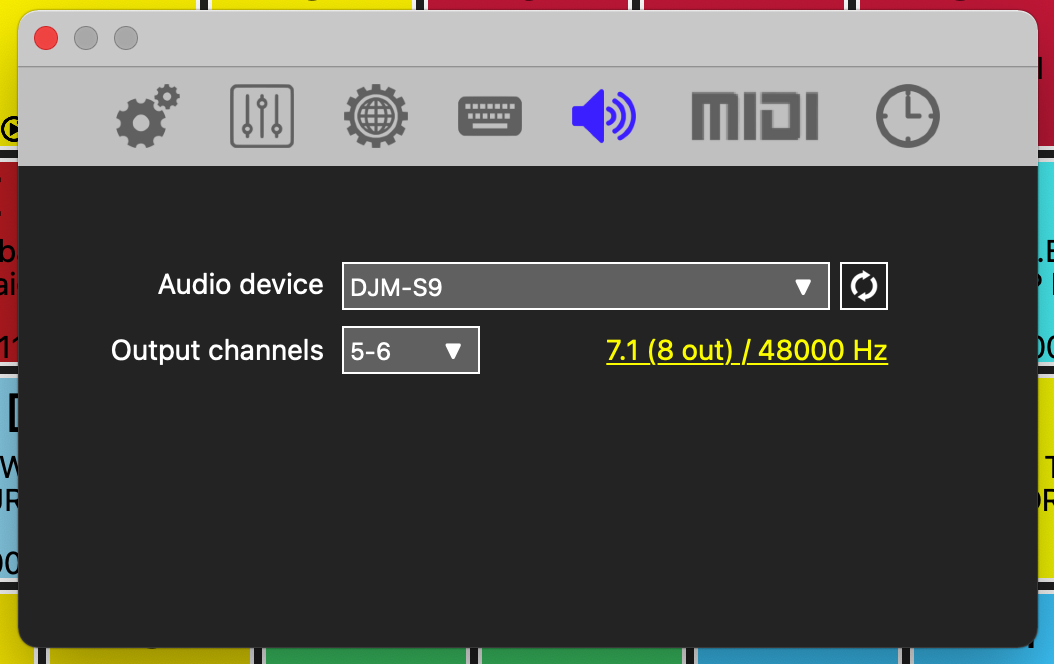 DJ Controllers & Mixers
KueIt 3 DJ sound effects software supports multi-channel audio devices. Select the controller/mixer/other audio device in KueIt as well as the output channel to enjoy the DJ controller software feature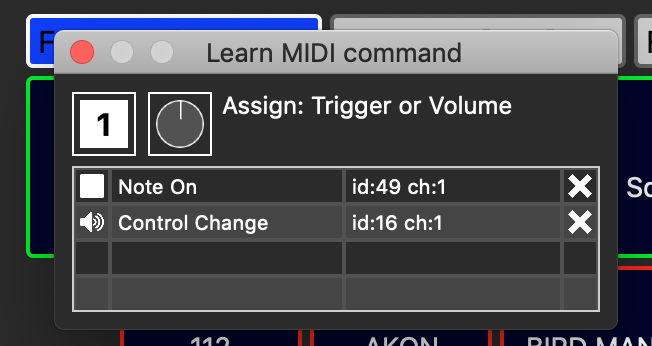 Improved MIDI support
KueIt can read from as many MIDI devices as you have plugged into your computer. Unplug and plug devices with no interruption and no need to re-launch KueIt. The DJ controller software now supports 7-bit and 14-bit MIDI controllers

Blazing Fast Waveform
KueIt 3 audio instant replay software uses an improved audio engine that renders the complete waveform in a fraction of a second. Set start and end points of your audio tracks with ease
Import System
All audio tracks on the DJ sound effects software are directly imported into the system. Moved or renamed audio files will no longer prevent your profile from loading
System Backups
Back up your entire KueIt profile so that you never lose any data. KueIt periodically reminds you to create a backup of your system (Reminders can be disabled in settings)
64 bit
Optimized for 64 bit systems
Resizeable Interface
Make KueIt as large or small as you want. Want to keep the DJ sound effects software small in the corner but still show all the controls? No problem, KueIt will adjust all the controls to fit in the window
The KueIt Features You Love
Instantly play up to 310 audio clips at the touch of your fingertips
It's as easy as a simple keyboard key press or the click of your mouse. Create and store your own library of music clips, sound effects, and jingles effortlessly with our DJ sound effects software
Create custom user profiles in minutes
Using KueIt's user-friendly interface, drag and drop audio files directly to the real-time audio playback software. Play one or more audio files simultaneously with zero delay
Non-destructive editing
Zoom in and out of a waveform to set start and end positions. Set up loops in your audio. Play a variety of different audio file types, including MP3, WAV, AIFF, WMA, MP2 and OGG files. Change file gains independently of one another, along with a master gain
Auto-Play
Create playlists using multiple audio clips. Play the entire list at the touch of a single key
Find and play audio clips quickly and easily
Create a profile and assign audio clips to any of 38 different keys on your keyboard. Simply drag and drop your files into the DJ sound effects software to get started. An additional 7 banks of keys expands the number of files you can assign to over 300. In addition, choose from 6 extra stand-alone players outside of the banks, or create extra auto-play playlists. After setting up a profile, simply click the key associated with the audio file, play it instantly, and enjoy all the new audio instant replay software features
Assign MIDI
Virtually every KueIt function is MIDI assignable. Assign your choice of any key trigger, key volume, master volume, stop, and more on the DJ controller software
Customize your DJ sound effects software's display
Title and color the keys and groups on your display
KueIt was designed for the serious DJ, producer, or broadcaster that demands highest standards from their equipment
The easy yet reliable performance of KueIt's real-time audio playback software makes it perfect for radio, nightclubs, TV, live concerts, sporting events, school gymnasiums, and anywhere that quality music, jingles, or sound effects are needed. Don't compromise the outcome of your event or broadcast. Go with the system that works... KueIt
Runs on both Mac and Windows
KueIt runs seamlessly on either a macOS (Intel or Silicon Macs) or Windows laptop. Use the DJ sound effects software on Windows tablets to trigger audio by pressing on the screen
Available in five languages
KueIt has been translated to English, Spanish, French, German, and Italian. The keyboard layout can be customized to QWERTY, AZERTY, and QWERTZ keyboards as well
KueIt has stood the test of time
See what others had to say about KueIt, from our earliest days
KueIt minimum system requirements
| macOS | Windows |
| --- | --- |
| Yosemite / El Capitan / Sierra / High Sierra / Mojave / Catalina / Big Sur / Monterey (Intel & Silicon) | Windows 8 (Full, not RT) / 8.1 / 10 / 11 |
| 4 GB of RAM | 8 GB of RAM |
| 1 GB available hard disk space | 1 GB available hard disk space |